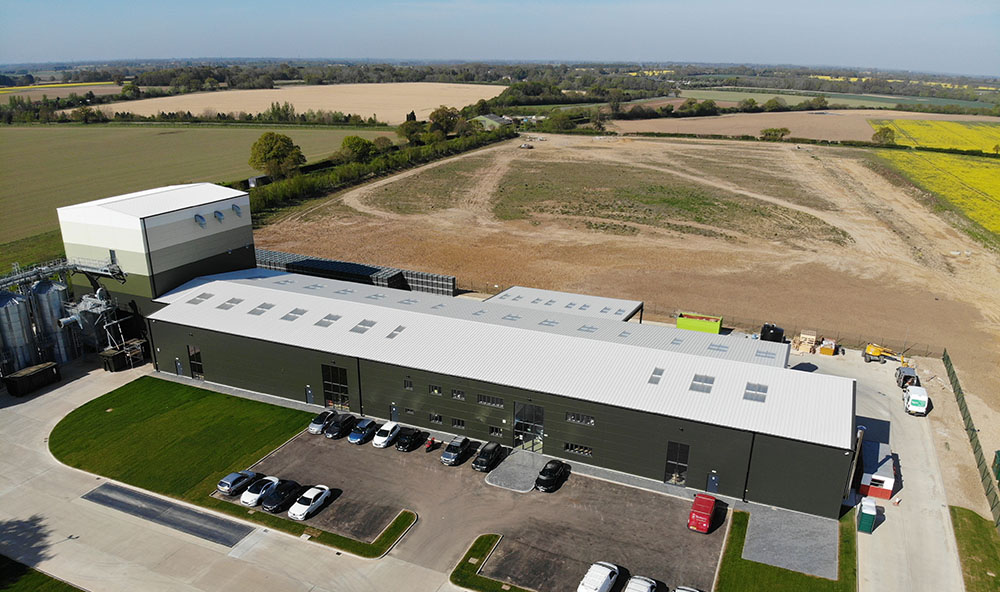 News
April 10, 2023
4 min
Delivering electrical power for sustainable food production
Vattenfall IDNO supports a new food park in Norfolk with an upgraded grid connection and a new 132kV substation to provide 30MW of import capacity and 50MW of export.
Food Enterprise Park is a 46 acre consented development site in Greater Norwich Food Enterprise Zone which provides real estate and facilities for food and drink businesses.
Working alongside the ICP, East Solutions, Vattenfall IDNO has helped deliver the required power for the site. East were responsible for design, engineering, and installation, and will be the site's O&M provider for Vattenfall on an ongoing basis.
The idea behind the development was to support the co-location of food related businesses, enabling them to take supplies produced locally and add value before onwards distribution into retail. Norfolk produces roughly 9% of the UK's food but lacks the ability to process it. For example, most potatoes leave the county to be made into crisps.
Food Enterprise Park (FEP) has put all the infrastructure in place to support food-related businesses, including a road network, surface, foul and mains water systems, high speed broadband, and electricity to power the site.
Unfortunately, despite two massive cables from offshore wind crossing the land there was not sufficient capacity in the local electricity grid to meet FEP's demand. They quickly absorbed the 3.7MW that was available and started planning how to secure more power.
In order to provide the required power FEP commissioned a new 132kV substation, linked to one side of the pylon from the local distribution network, which will provide 30MW of import capacity and 50MW of export.
The substation will transform the power down to 11kV and feed a switch room housing the import and export meters. Food Enterprise Park's connection is via a single MPAN (Meter Point Administration Number), so their on-site electricity infrastructure is managed as a private wire network meaning that FEP meters the on-site electricity distribution and invoices their tenants directly.
FEP also have plans to extend the site with further commercial units, some housing and 100 acres of solar photovoltaics 'behind the meter' to provide clean, renewable energy to the entire site.
Clarke Willis, from Food Enterprise Park, explains:
Working with an IDNO is excellent because we can start by releasing just some of the capacity we have secured to the businesses at FEP. We don't need all of the 30MW immediately, so we'll only be taking 5MW to start with and then we can build out and release the additional power in stages as the development expands.
Reserving capacity in this way is not possible through a DNO, so working with an IDNO provided FEP a significant advantage. Because IDNOs adopt the 'contestable works' they also pay developers or business owners an Asset Adoption Value, which can help significantly with project finances.
"The Food Enterprise Park development will cost around £4.5M, so we need a return on investment" explains Clarke.
We can't sell grid power at a margin, but we still needed to make sure the math stacked up, so the Asset Adoption Value payment from Vattenfall was very useful.
Vattenfall are keen to support developments with net zero ambitions which incorporate sustainability as part of their ethos and FEP is blazing a trail for sustainable farming. As well as planting 1 million trees around the site, the FEP project encourages sustainability at every level. Clarke explains:
"We're muddy-boot people, so we understand working with nature. Sustainability is far more than a buzz word to us, it's in our DNA. The world will be a different place in the future with changes in diets shifting demand and more 'Controlled Environment Agriculture'. Fischer Farms are just finishing building the world's largest vertical farm on site which will produce 72,000 bags of lettuce per day, 365 days a year, using just 5% of water which would be required to grow the same quantity in fields - and it doesn't use any chemicals. The lettuce we eat in the UK is normally picked last week in Spain, driven in chilled wagons through France and customs (with its own set of problems) so it only has a 2-day shelf life when it gets here. The lettuce from FEP will not even be touched by human hands, so it doesn't need to be washed, and it's chilled immediately, giving it a 12-day shelf life. When you compare that to current supply chains, weather extremes and empty UK supermarket shelves we are clear this is progress."
FEP are in business for the long-term. They have significant plans to enable healthier, more sustainable, locally produced food - and have designed specific facilities, including a food business incubator, which will support local businesses to grow over time.
"We're part of the local community" explains Clarke, "we've been a farming family for generations and have quite an old-fashioned way of doing business. Good working relationships are important to us - it makes a big difference to know you will get the same person on the phone."
We worked out the adoption agreement and financials with Vattenfall through one-to-one phone calls over a few weeks and the relationship, way of working and can-do attitude worked extremely well - it's the way we like to work.